To celebrate Farm to School Month (October), our schools participated in a friendly interstate competition today called the Crunch Off. The competition is to see which state can get the most "crunches" into a local apple or other local produce, per capita. Crunch Off events encourage healthy eating and support local agriculture while celebrating Farm to School Month and highlighting the strength a community gains from farmer-school foodservice partnerships.
Every student who participated in lunch today was offered a serving of locally grown Dragon's Tongue beans. Dragon's Tongue beans have cream-colored pods with vivid purple markings and are exceptionally crisp and juicy. They are a Dutch wax bean that grows to about a 6-8" long. The purple streaks fade when beans are cooked. What a way to celebrate the wonderful fruits and vegetables grown in the Mountain Plains Region!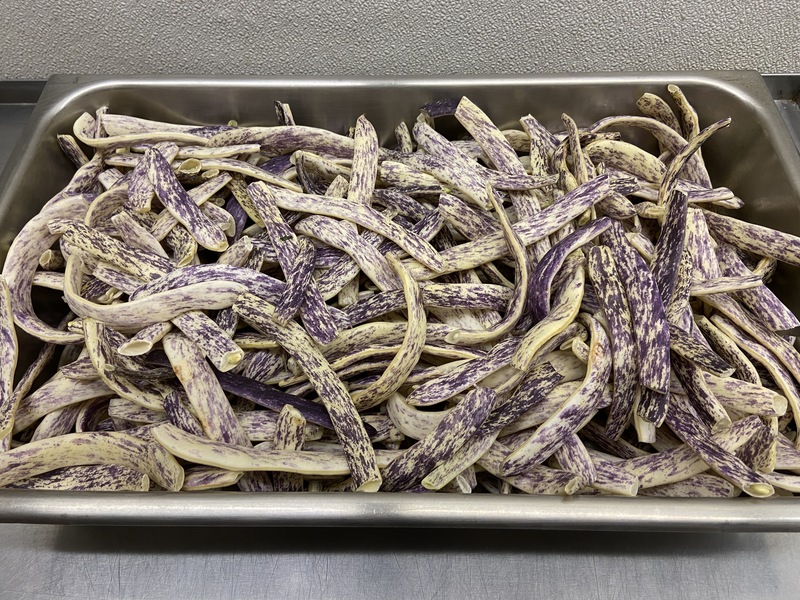 As long as we are in the competitive mindset, how about a guessing game? How much, this school year, has the School Nutrition Department directly invested back into the community through purchasing local produce? $75, $750, $7,500? If you guessed $7,500, you are correct. We have processed 3,500 pounds of local fruits and veggies a week for our meal and snack programs. Can we get a shout out for those hard-working School Nutrition Assistants…that is a lot of washing, slicing, and dicing!
All of the lettuce in our meals comes from Greybull Valley Produce. They harvest fresh lettuce heads and bring them directly to our central kitchen every single week. Besides Greybull Valley Produce we also take weekly, sometimes bi-weekly, farm-fresh deliveries from Shoshone River Farms and Farm Table West, which is a local food hub, with orders often filled by Lloyd Craft Farms. Produce featured this year has included:
Mixed Lettuce Heads
Orange, Purple, and Yellow Carrots
Celery
Yellow, White, and Red Onions
American, Asian and English Cucumbers
Icicle and English Breakfast Radishes
Sweet Crimson and Yellow Amarillo Watermelon
Orange, Purple, Yellow, and Red Tomatoes
Green, Purple, and Orange Bell Peppers
Athena and Sugar Cube Cantaloupe
Broccoli
Cauliflower
Dragon Tongue Wax Beans
Lambkin Melon
Golden Beets
A huge thank you to all who have donated to our farm to school efforts! These donors include all of the friends and family who donated in memory of David Nelson, families who have chosen to donate their remaining lunch balances, and citizens of the community who are always silently helping us forge strong bonds.