CURRICULUM LEADERSHIP INSTITUTE
Learn more about our Curriculum Coordinating Council's procedures: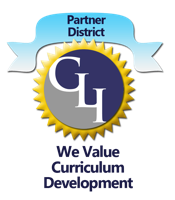 In 2011, Park County School District 6 began a multi-year partnership with the Curriculum Leadership Institute, a non-profit organization that works with schools to improve student learning. With guidance from our CLI consultant, we began to systematically evaluate our current curriculum, revising it as needed to more fully align with Wyoming standards and to ensure that our students graduate well prepared for success in college, the military, careers, and life.
By 2018, curriculum in every subject area had been through the scrutiny that is part of the CLI process. We had a core group of enthusiastic and knowledgeable teachers who had been through the entire cycle and who were willing to share their expertise. It was time for us to take ownership of the process for our district and reduce our reliance on our CLI consultant. A small group of teachers received facilitation training that August and will take over leading our curriculum development work as our consultant phases out. The work will continue as the state revises and adds to their standards.
CURRICULUM COORDINATING COUNCIL
The Curriculum Coordinating Council (CCC) is the governing body for our curriculum work. The CCC includes teachers, administrators, a counselor, a school board member, and parent/community representatives. Terms last for three years, with one-third of the council replaced annually. District teams make all decisions and choices about district curriculum, building on the foundation created through the Curriculum Leadership Institute's expertise, step-by-step process, guidelines, and examples.
CCC members as individuals and the group as a whole abide by a set of bylaws and procedures that detail their duties and responsibilities. A long-range plan for curriculum work has been created, is reviewed annually, and is updated as needed to align with the Wyoming standards timeline as well as input from teachers at the building level. CCC members receive training in the process the SACs use for their work.
SUBJECT AREA COMMITTEES (SAC)
A Subject Area Committee (SAC) consists of teachers from each grade level/course and building, a Curriculum Coordinating Council member, and an administrator. We select our teaching staff members based on a district-wide survey about interest in serving on Subject Area Committees (SAC). CCC members either volunteer to chair the SACs or are appointed by the Council. The SAC performs the following duties:
Surveys current subject area teachers

Analyzes the survey results for duplication, gaps, and alignment

Interviews subject area teachers

Revises/rewrites district curriculum
Committees include the following subject areas:
Career/Technical Education (Agriculture, Business, Construction, Family & Consumer Science, Manufacturing, Hospitality, and Foods & Nutrition)

Computer Science

Language Arts (Reading, Writing, Speaking, and Listening)

Fine Arts (Art and Music)

Foreign Language

Mathematics

Science

Social Studies

Wellness (Health and Physical Education)