Learn more about Wyoming's educational standards.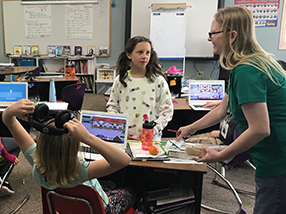 Our K-12 curriculum is aligned to the Wyoming State Standards. We are following the Curriculum Leadership Institute process as we examine the standards in order to better understand our teaching and student learning requirements. Our teachers write our district curriculum based on our student population, with a local focus, while meeting the state standards. Teachers then create innovative lessons, activities, and projects that support student proficiency, assessments to check student proficiency, and remediation as needed to aid students in achieving proficiency.
Please contact the curriculum office for more information about district curriculum, state standards, gifted & talented, technology, assessment, staff professional development, and federal/state programs.
Tim Foley
Interim Superintendent/ Curriculum Director
(307) 587.4253. ext. 5202
Send Email
Liz Brink
Curriculum Admin Assistant/
EL Coordinator
(307) 587.4253. ext. 5266
Send Email
Lisa Kolodziejski
Admin Assistant to the Asst. Superintendent
(307) 587.4253 ext. 5267
Send Email