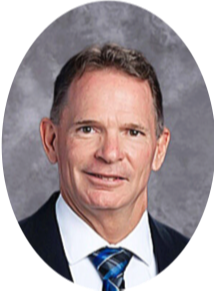 Vernon Orndorff, M.Ed.
Park County School District 6
919 Cody Ave.
Cody, WY 82414
(307) 587.4253
Email Mr. Orndorff
A MESSAGE FROM OUR SUPERINTENDENT
Park County School District 6 families, friends, and guests,
Thank you for the warm welcome that my family and I received on our arrival in Park County School District 6. My wife, Cindy, my daughter Ivey, (who will be attending Cody High School as a Senior) and I are thankful for the opportunity to be members of the Park 6 community. Our twins, Bobby and Joseph attend college at the University of Wyoming and Lane Community College in Eugene, Oregon. My second oldest son Jake, his wife, and our grandson and granddaughter living in Washington have already paid us a visit, and my oldest son Mark, his wife, and our grandson living in Tennessee is planning a visiting in the very near future. We are so fortunate to live in such a beautiful area.
Over the past five months, I have stayed engaged with the Park County School District 6 Team through phone calls, text messages, zoom meetings, video, and other avenues until my first official day of service on July 1st. During this time I have had the distinct pleasure of meeting students, parents, families, community members, first responders, elected officials, business leaders, the Park County School District 6 staff, faculty, administrators, and the Board of Trustees.
Parents and families, thank you for your dedication and for supporting your children. I have met so many young people in the Park County School District 6. I am impressed with how they conduct themselves. They are respectful, friendly, and willing to take the time to visit with me. This is a direct reflection of their parents and families. Again, thank you.
During my time visiting all of our schools, I admire the selfless dedication all our employees demonstrate in their work to serve and support our scholars. We are fortunate to have employees in each department that provides support to our scholars, staff, faculty, and administration. The individuals in these departments are passionate and take ownership of their work.
The professional educators and administrators of Park County School District 6 strive to provide an academic environment that is challenging and prepares our students for the future while offering an array of first-class co-curricular and extra-curricular activities providing a well-rounded balance of experience in our scholars' lives.
We are so fortunate to have a dynamic Board of Trustees with a genuine focus to serve the school district, students, employees, and this community. When they come together they are a strong governing body making bold decisions to serve and support our scholars, professional educators, staff, and what best serves Park 6 school district and this community.
Having served for over 30 years in education as a teacher at all grade levels, a school administrator at all grade levels, and a superintendent, I am eager to cultivate the accomplishments this dynamic board has supported, our professional educators have provided and our students have established. Without our families and community support, we could not continue the dynamic learning opportunities Park 6 has to offer.
Park County School District 6 cannot do this alone it takes our parents, families, and all the stakeholders of this community. We need to stand together establishing unity to cultivate a great community and great school system. These two go hand in hand and cannot exist without the other.
My focus is to grow leaders in every aspect of this district. With dynamic leaders, we can provide our scholars with learning opportunities that will prepare them for their future so they can compete on a global level in the endeavors they choose.
Park County School District 6 will strive for perfection in providing a safe environment conducive to learning where students are challenged, given opportunities for critical thinking, collaboration, creativity, innovation and leveraging technology to enhance the learning environment. I am honored and proud to serve as your superintendent of schools.
Vernon Orndorff
Proud Superintendent - Park County School District 6
The Big "3"
Do what is right - Do your best - Treat others the way you want to be treated